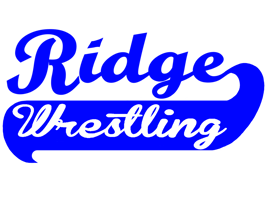 Frequently Asked Questions
Q: "What is Wrestling - is it like the stuff on T.V.?"
A: Wrestling, as we participate in Peachtree Ridge, is sanctioned by GHSA, AAU, and USA Wrestling. We participate in "Folkstyle" Wrestling, also referred to as "Scholastic" Wrestling. It is FAR FAR different than what is seen in WWE/ECW, etc. Folkstyle Wrestling is a uniquely American sport, drawing from Native American wrestling, Greco-Roman wrestling, as well as styles brought to the United States from England and Ireland.
Q: "What is the Purpose of Wrestling?"
A: Wrestling, especially Folkstyle Wrestling, is a sport based on control - both self-control, as well as the control of your opponent. One can win a wrestling match by points awarded for certain accomplishments (which can be viewed at the scorer's table as the match proceeds), or by pinning your opponent's back to the mat.
Q: "How will Wrestling affect/assist my child?"
A: As stated above - wrestling is about control. Before you can control someone else, you must first learn to control yourself. This may be the best take-away from wrestling. Wrestling is also extremely demanding physically. A Wrestler must not only work on strength, speed, endurance and flexibility; a wrestler must also build up their mental endurance - an unwillingness to give up. Wrestling is also an excellent tool to learn the importance of hard work. No one walks onto a mat knowing how to wrestle. A knowledgeable wrestler should be able to defeat a better athlete without wrestling knowledge. Only hard work and persistence will provide the skill necessary to achieve victory. Finally, Wrestling provides routine opportunities to exercise and exhibit Respect: respect for your opponent, for your coach, for your opponent's coach - but most importantly SELF-RESPECT.
Q: "How will my child be grouped for Competition?"
A: Wrestlers are grouped in three (3) ways: experience, age, and weight. Saturdays are typically Open tournaments - there is no restriction other than age/school grade for inclusion. Sundays, however, are reserved for "Novice" wrestlers - wrestlers who have not competed in any prior season, or wrestlers who competed in ONE (1) prior season. After two (2) years of Novice tournaments, a wrestler may only enter Open competition. There is no restriction on signing up for an Open event - you may do that as your first competition, if desired. Age is similar to Pop Warner Football: 6u, 8u, 10u, 12u, 14u. No High School students (even if they meet the birthday cutoff) may participate in Team Georgia Youth sanctioned events. Finally, weight classes. Unlike High School and college, these will vary based upon the age group. Within the more populated weight ranges, the weight classes will be quite close together, so there is no need to cut weight - wrestle the weight that you are! Weight class designation for any tournament must be made at the time of registration, however, so it is wise to "wrestle up" in weight if it is close - few Elementary or Middle Schoolers want to cut weight, and it really is not necessary.
Q: "What equipment do we need?"
A: Wrestlers can come to practice with shorts and a t-shirt. No street shoes are allowed on the mat for hygiene reasons, but you can wrestle in socks. WRESTLING SHOES ARE HIGHLY RECOMMENDED. Socks provide little traction, but many techniques do not require that. In order to do meaningful live wrestling, however, that traction is vital. If a wrestler competes in tournaments, headgear is recommended. Headgear can go from $19-45.00; shoes can range from $30 - 120 a pair. A $120 pair of shoes will NOT make you a better wrestler. Trust me - I tried.
Q: "Does my child have to wear a singlet to wrestle?"
A: No. A wrestler can compete in shorts and a t-shirt if they wish. Shorts without pockets are preferred, due to the "snag" risk of injury. That said - I recommend singlets for competition as it gives an opponent nothing to grip, and no "traction" as compared to skin/singlet. It truly is a matter of personal preference. The issue of a singlet should not dissuade someone from wrestling.
Q: "Can girls wrestle?"
A: Absolutely. The most technically proficient wrestler I have had the privilege to coach placed at State her 8th grade year... against boys. She competed as a Varsity Wrestler in 9th grade - against boys. Girls also have "Girls" competitions on both State and National levels. There are collegiate programs (with scholarships) for Women's Wrestling. No one messes with a young lady who wrestled - at least not a 2nd time. Not only do they have the lady to deal with - she typically has 10-20 athletic, skilled, and protective young men behind her.
Q: "I would like to watch some wrestling, but do not know how, and do not understand the scoring - help?"
A: You can find wrestling matches on YouTube - you may be able to find collegiate matches, or even some high school matches. Scoring is fairly basic, but it can go pretty quickly. "Takedown" is bringing your opponent to the mat, under control, from a neutral (typically standing) position. A Takedown is typically the 1st points scored in a match. An "Escape" is a return to a neutral position by a wrestler who has either been taken down, or started on "Bottom" in Referee's Position (the typical position wrestlers take to start the 2nd and 3rd periods of a match). Reversal occurs where the wrestler "on bottom" reverses their position, taking a dominant, or "top" position against their opponent. Near Fall (often called "back points") occur when the "top" wrestler forces the opponent's shoulders past a 45 degree angle, under control. 2 points are initially awarded, but if the position is held for at least 5 seconds, the points awarded increase to 3.